Dungeons and Dragons Couatl 3.5 PBP RPG
Wed, 22nd November, 2017 - 6:40 pm GMT
| | |
| --- | --- |
| | Couatl |
| | |
| | 9d8+18 (58 hp) |
| | +7 |
| | 20 ft. (4 squares), fly 60 ft. (good) |
| | 21 (-1 size, +3 Dex, +9 natural), touch 12, flat-footed 18 |
| | +9/+17 |
| | Bite +12 melee (1d3+6 plus poison) |
| | Bite +12 melee (1d3+6 plus poison) |
| | 10 ft./5 ft. |
| | Constrict 2d8+6, improved grab, poison, psionics, spells |
| | Darkvision 60 ft., ethereal jaunt, telepathy 90 ft. |
| | Fort +8, Ref +9, Will +10 |
| | Str 18, Dex 16, Con 14, Int 17, Wis 19, Cha 17 |
| | Concentration +14, Diplomacy +17, Jump +0, Knowledge (any two) +15, Listen +16, Search +15, Sense Motive +16, Spellcraft +15 (+17 scrolls), Spot +16, Survival +4 (+6 following tracks), Tumble +15, Use Magic Device +15 (+17 scrolls) |
| | Dodge, Empower Spell, Eschew Materials B, Hover, Improved Initiative |
| | Warm forests |
| | Solitary, pair, or flight (3-6) |
| | 10 |
| | Standard |
| | Always lawful good |
| | |
| | +7 |
A couatl is about 12 feet long, with a wingspan of about 15 feet. It weighs about 1,800 pounds.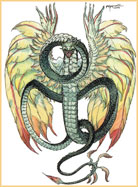 Couatls speak Celestial, Common, and Draconic, and also have the power of telepathy (see below).
A couatl uses its detect thoughts ability on any creature that arouses its suspicions. Since it is highly intelligent, a couatl usually casts spells from a distance before closing. If more than one couatl is involved, they discuss their strategy before a battle.
Latest RPG Post
Not knowing what to say she blurts out, "Sorry, just a bit of a romantic moment if you get what I'm saying." She pretends to blush while placing her hand on the shoulder of the guy at the console. She looks down at him hoping he corroborates her story and he…
NOTE: In the case of D&D, Wizards holds the copyright for its material. The versions most Players in our Community tend to use Dungeons & Dragons 2-3.5 although others may use higher versions.
Search via our Community for:
Dungeons and Dragons Couatl - D&D 3.5 PBP RPG Coded by: BGID® | ALL RIGHTS RESERVED Copyright © 2004-2017
Disclaimer | Privacy | Report Errors / Contact | Credits
RPG Info
Latest Game Topics
Highlights
Updated every: 59 minutes