Dungeons and Dragons Couatl 3.5 PBP RPG
Wed, 8th July, 2020 - 6:40 am GMT
| | |
| --- | --- |
| | Couatl |
| | |
| | 9d8+18 (58 hp) |
| | +7 |
| | 20 ft. (4 squares), fly 60 ft. (good) |
| | 21 (-1 size, +3 Dex, +9 natural), touch 12, flat-footed 18 |
| | +9/+17 |
| | Bite +12 melee (1d3+6 plus poison) |
| | Bite +12 melee (1d3+6 plus poison) |
| | 10 ft./5 ft. |
| | Constrict 2d8+6, improved grab, poison, psionics, spells |
| | Darkvision 60 ft., ethereal jaunt, telepathy 90 ft. |
| | Fort +8, Ref +9, Will +10 |
| | Str 18, Dex 16, Con 14, Int 17, Wis 19, Cha 17 |
| | Concentration +14, Diplomacy +17, Jump +0, Knowledge (any two) +15, Listen +16, Search +15, Sense Motive +16, Spellcraft +15 (+17 scrolls), Spot +16, Survival +4 (+6 following tracks), Tumble +15, Use Magic Device +15 (+17 scrolls) |
| | Dodge, Empower Spell, Eschew Materials B, Hover, Improved Initiative |
| | Warm forests |
| | Solitary, pair, or flight (3-6) |
| | 10 |
| | Standard |
| | Always lawful good |
| | |
| | +7 |
A couatl is about 12 feet long, with a wingspan of about 15 feet. It weighs about 1,800 pounds.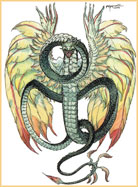 Couatls speak Celestial, Common, and Draconic, and also have the power of telepathy (see below).
A couatl uses its detect thoughts ability on any creature that arouses its suspicions. Since it is highly intelligent, a couatl usually casts spells from a distance before closing. If more than one couatl is involved, they discuss their strategy before a battle.
Latest RPG Post
The Justice League battles the Fatal Five, (Tharok, Emerald Empress, Validus, Mano and the Persuader). Based on the characters created by Jim Shooter.
Director: Sam Liu
Writers: Alan Burnett, Eric Carrasco Stars: Elyes Gabel, Diane Guerrero, Kevin Conroy.
NOTE: In the case of D&D, Wizards holds the copyright for its material. The versions most Players in our Community tend to use Dungeons & Dragons 2-3.5 although others may use higher versions.
Dungeons and Dragons Couatl - D&D 3.5 PBP RPG Coded by: BGID® | ALL RIGHTS RESERVED Copyright © 2004-2020
Disclaimer | Privacy | Report Errors / Contact | Credits
Future Terra II
Automated system to Role-play. No worries about Rules, Dice or updating your Character Sheet, they are taken care of for you. Just immerse in pure Role-playing.
Become A Backer!

See More
RPG Highlights
Updated every: 59 minutes