Dungeons and Dragons Azer 3.5 PBP RPG
Mon, 23rd September, 2019 - 12:50 am GMT
Azer

2d8+2 (11 hp)

+1

20 ft. in scale mail (4 squares); base speed 30 ft.

23 (+1 Dex, +6 natural, +4 scale mail, +2 heavy shield), touch 11, flat-footed 22

+2/+3

Warhammer +3 melee (1d8+1/x3 plus 1 fire) or shortspear +3 ranged (1d6+1 plus 1 fire)

Warhammer +3 melee (1d8+1/x3 plus 1 fire) or shortspear +3 ranged (1d6+1 plus 1 fire)

5 ft./5 ft.

Heat

Darkvision 60 ft., immunity to fire, spell resistance 13, vulnerability to cold

Fort +4, Ref +4, Will +4

Str 13, Dex 13, Con 13, Int 12, Wis 12, Cha 9

Appraise +6, Climb +0, Craft (any two) +6, Hide +0, Jump -6, Listen +6, Search +6, Spot +6

Solitary, pair, team (3-4), squad (11-20 plus 2 3rd-level sergeants and 1 leader of 3rd-6th level), or clan (30-100 plus 50% noncombatants plus 1 3rd-level sergeant per 20 adults, 5 5th-level lieutenants, and 3 7th-level captains)

2

Standard coins; double goods (nonflammables only); standard items (nonflammables only)

Always lawful neutral

By character class

+4
Azers are dwarflike beings native to the Elemental Plane of Fire. They wear kilts of brass, bronze, or copper, and speak Ignan and Common.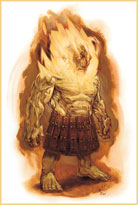 Latest RPG Post
Maybe taking up fishing would cure a few things and yet that was too boring. Maybe surfing, but that could be dangerous. Maybe collecting sea shells, yes that could work. Then think more she wasn't sure if…
NOTE: In the case of D&D, Wizards holds the copyright for its material. The versions most Players in our Community tend to use Dungeons & Dragons 2-3.5 although others may use higher versions.
Search via our Community for:
Dungeons and Dragons Azer - D&D 3.5 PBP RPG Coded by: BGID® | ALL RIGHTS RESERVED Copyright © 2004-2019
Disclaimer | Privacy | Report Errors / Contact | Credits
RPG Info
Latest Game Topics
Highlights
Updated every: 59 minutes