Dungeons and Dragons Minotaur 3.5 PBP RPG
Mon, 24th July, 2017 - 10:39 pm GMT
| | |
| --- | --- |
| | Minotaur |
| | |
| | 6d8+12 (39 hp) |
| | +0 |
| | 30 ft. (6 squares) |
| | 14 (-1 size, +5 natural), touch 9, flat-footed 14 |
| | +6/+14 |
| | Greataxe +9 melee (3d6+6/x3) or gore +9 melee (1d8+4) |
| | Greataxe +9/+4 melee (3d6+6/x3) and gore +4 melee (1d8+2) |
| | 10 ft./10 ft. |
| | Powerful charge 4d6+6 |
| | Darkvision 60 ft., natural cunning, scent |
| | Fort +6, Ref +5, Will +5 |
| | Str 19, Dex 10, Con 15, Int 7, Wis 10, Cha 8 |
| | Intimidate +2, Listen +7, Search +2, Spot +7 |
| | |
| | Underground |
| | Solitary, pair, or gang (3-4) |
| | 4 |
| | Standard |
| | |
| | By character class |
| | +2 |
A minotaur stands more than 7 feet tall and weighs about 700 pounds.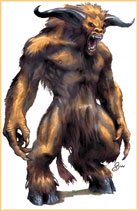 Latest RPG Post
.. A trail leading deep into the forest. She can see faint glimmers of light down the trail. Curiosity gets the better of here and she begins to walk down the trail. She gets about 100 yards down the trail into the forest when she…
NOTE: In the case of D&D, Wizards holds the copyright for its material. The versions most Players in our Community tend to use Dungeons & Dragons 2-3.5 although others may use higher versions.
Search via our Community for:
Dungeons and Dragons Minotaur - D&D 3.5 PBP RPG Coded by: BGID® | ALL RIGHTS RESERVED Copyright © 2004-2017
Disclaimer | Privacy | Report Errors / Contact | Credits
RPG Info
Latest Game Topics
Highlights
Updated every: 59 minutes