Dungeons and Dragons Mohrg 3.5 PBP RPG
Wed, 26th July, 2017 - 4:48 am GMT
| | |
| --- | --- |
| | Mohrg |
| | |
| | 14d12 (91 hp) |
| | +9 |
| | 30 ft. (6 squares) |
| | 23 (+4 Dex, +9 natural), touch 14, flat-footed 14 |
| | +7/+12 |
| | Slam +12 melee (1d6+7) or tongue +12 melee touch (paralysis) |
| | Slam +12 melee (1d6+7) and tongue +12 melee touch (paralysis) |
| | 5 ft./5 ft. |
| | Improved grab, paralyzing touch, create spawn |
| | Darkvision 60 ft., undead traits |
| | Fort +4, Ref +10, Will +9 |
| | Str 21, Dex 19, Con -, Int 11, Wis 10, Cha 10 |
| | Climb +13, Hide +21, Listen +11, Move Silently +21, Spot +15, Swim +9 |
| | Alertness, Dodge, Improved Initiative, Lightning Reflexes, Mobility |
| | Any |
| | Solitary, gang (2-4), or mob (2-4 plus 5-10 zombies) |
| | 8 |
| | None |
| | Always chaotic evil |
| | |
| | - |
Mohrgs are the animated corpses of mass murderers or similar villains who died without atoning for their crimes. Most mohrgs are 5 to 6 feet tall and weigh about 120 pounds.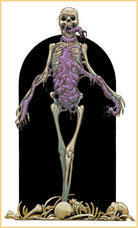 Like zombies, mohrgs attack by slamming enemies with their fists. They often catch opponents flat-footed, for they move much faster than zombies.
Improved Grab (Ex): To use this ability, a mohrg must hit a creature of its size or smaller with its slam attack. It can then attempt to start a grapple as a free action without provoking an attack of opportunity.
Paralyzing Touch (Su): A mohrg lashes out with its tongue in combat. An opponent the tongue touches must succeed on a DC 17 Fortitude save or become paralyzed for 1d4 minutes. The save DC is Charisma-based. Create Spawn (Su): Creatures killed by a mohrg rise after 1d4 days as zombies under the morhg's control. They do not possess any of the abilities they had in life.
Latest RPG Post
Lia grins and takes the pouch from Velon. " Most men are hard of hearing Velon. I have noticed that in my travels. " Lia winks at him.

Seeing Oswald reach out his hand for the pouch she pulls it back. "Thank you but I'll be keeping this for now. You must prove yourself to us first. You stumbled in your first attempt up front which almost cost us dearly. If you hear something that I miss just let me know. That goes for you as well, Velon. " She clasps her holy amulet and calls upon Sune to bless her. She feels sharper senses as she finishes this.

Out of Character: : She casts guidance on herself. It's at will so she will cast it every minute until they are out of the danger area.
NOTE: In the case of D&D, Wizards holds the copyright for its material. The versions most Players in our Community tend to use Dungeons & Dragons 2-3.5 although others may use higher versions.
Search via our Community for:
Dungeons and Dragons Mohrg - D&D 3.5 PBP RPG Coded by: BGID® | ALL RIGHTS RESERVED Copyright © 2004-2017
Disclaimer | Privacy | Report Errors / Contact | Credits
RPG Info
Latest Game Topics
Highlights
Updated every: 59 minutes