We recommend you use our new Text RPG Character Creator. It is free for Members of our Community. To use go to any "Create Character(s)" Thread in
and at the top left of that Thread you will see a button to Create Text RPG Character, see below: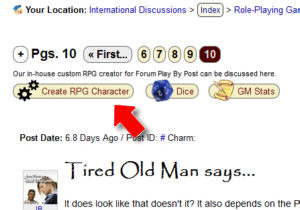 Click on the button the red arrow points to and follow the instructions. In addition, you will also be able to choose your Character's avatar, body type, item location, Character sheet style and a lot more all for FREE. See the screen shot on this page.
Want To Test It Out?
If you will first like to TEST first, then join the Community, validate your Email and then use this button:
or if you do not want to register now then check the
.