Bar Fight Map
Fri, 21st July, 2017 - 2:44 am GMT
WoM Map Options
About this Map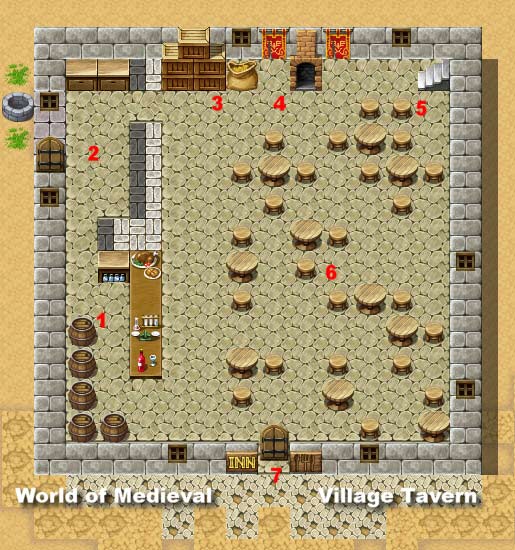 Latest RPG Post
I am not able to Dungeon Master any more games I am one that wants to play some too. While I could Dungeon Master more the owner of this board limits that so the Dungeon Master does not get burnt out thus that helps and it allows others to Dungeon Master too.
D&D Dungeon Masters Wanted Learn How To Be A DM / GM

International Discussions
NOTE: In the case of D&D, Wizards holds the copyright for its material. The versions most Players in our Community tend to use Dungeons & Dragons 2-3.5 although others may use higher versions.
Search via our Community for:
Bar Fight Map Coded by: BGID® | ALL RIGHTS RESERVED Copyright © 2004-2017
Disclaimer | Privacy | Report Errors / Contact | Credits
Current Leaders

KNtoran

Noukril
(14)

Hunter

Hunter
(14)
Chynacat

Melodie
(11)
Krusten

Krusten
(10)
Thomaslee

Jonathon
(9)
Wizard

Merlin
(9)
Aspiring Leaders

Goldendawn / Aaroni (9)
Thaosx / Dazrin (8)
Txtrpg / Zork (2)
Usabookworm / Bonifacius (5)
Anronrosby / Kronar (5)
Kyrroeth / Emma (4)
Ready To Rule?
Are you here yet or still hiding? Come out of your cave and become a Ruler... a Ruler of Kings.
RPG Highlights