Dungeons and Dragons Hawk 3.5 PBP RPG
Fri, 21st July, 2017 - 2:28 am GMT
| | |
| --- | --- |
| | Hawk |
| | |
| | 1d8 (4 hp) |
| | +3 |
| | 10 ft. (2 squares), fly 60 ft. (average) |
| | 17 (+2 size, +3 Dex, +2 natural), touch 15, flat-footed 14 |
| | +0/-10 |
| | Talons +5 melee (1d4-2) |
| | Talons +5 melee (1d4-2) |
| | 2-1/2 ft./0 ft. |
| | - |
| | |
| | Fort +2, Ref +5, Will +2 |
| | Str 6, Dex 17, Con 10, Int 2, Wis 14, Cha 6 |
| | |
| | |
| | Temperate forests |
| | Solitary or pair |
| | 1/3 |
| | - |
| | - |
These creatures are similar to eagles but slightly smaller: 1 to 2 feet long, with wingspans of 6 feet or less.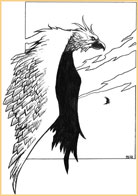 Latest RPG Post
I have to say, having Silas with the group is proving an interesting challenge for me. A DMPC that powerful can quickly overshadow the party if I'm not careful. (At their current level at least) He'll be parting ways with you soon enough, but still.
NOTE: In the case of D&D, Wizards holds the copyright for its material. The versions most Players in our Community tend to use Dungeons & Dragons 2-3.5 although others may use higher versions.
Search via our Community for:
Dungeons and Dragons Hawk - D&D 3.5 PBP RPG Coded by: BGID® | ALL RIGHTS RESERVED Copyright © 2004-2017
Disclaimer | Privacy | Report Errors / Contact | Credits
Current Leaders

KNtoran

Noukril
(14)

Hunter

Hunter
(14)
Chynacat

Melodie
(11)
Krusten

Krusten
(10)
Thomaslee

Jonathon
(9)
Wizard

Merlin
(9)
Aspiring Leaders

Goldendawn / Aaroni (9)
Thaosx / Dazrin (8)
Txtrpg / Zork (2)
Usabookworm / Bonifacius (5)
Anronrosby / Kronar (5)
Kyrroeth / Emma (4)
Ready To Rule?
Are you here yet or still hiding? Come out of your cave and become a Ruler... a Ruler of Kings.
RPG Highlights