Dungeons and Dragons Tendriculos 3.5 PBP RPG
Fri, 21st July, 2017 - 2:39 am GMT
| | |
| --- | --- |
| | Tendriculos |
| | |
| | 9d8+54 (94 hp) |
| | -1 |
| | 20 ft. (4 squares) |
| | 16 (-2 size, -1 Dex, +9 natural), touch 7, flat-footed 16 |
| | +6/+23 |
| | Bite +13 melee (2d8+9) and 2 tendrils +8 melee (1d6+4) |
| | Bite +13 melee (2d8+9) and 2 tendrils +8 melee (1d6+4) |
| | 15 ft./15 ft. |
| | |
| | Low-light vision, plant traits, regeneration 10 |
| | Fort +12, Ref +2, Will +4 |
| | Str 28, Dex 9, Con 22, Int 3, Wis 8, Cha 3 |
| | Hide +9, Listen +1, Move Silently +1, Spot +1 |
| | |
| | Temperate forests |
| | Solitary |
| | 6 |
| | 1/10th coins; 50% goods; 50% items |
| | Always neutral |
| | 10-16 HD (Huge); 17-27 HD (Gargantuan) |
| | - |
A tendriculos can rear up to a height of 15 feet. It weighs about 3,500 pounds.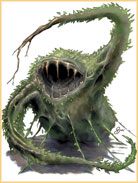 Animals and other plant creatures are unnerved by the presence of a tendriculos; they avoid it and any place it has been within the last 24 hours.
Prowling deep forests or waiting in vegetated areas (looking like nothing more than a small hillock), a tendriculos attacks savagely, showing no fear. It attempts to swallow as much flesh as it can, as quickly as it can.
Latest RPG Post
Out of Character: : Since we have a round without melee, time for the longbow…

In Character: :

Feeling Poljen ready himself for battle, Trammet flaps away and finds a perch from which to watch the coming fight. Poljen has taught the eagle to stay away from such danger, unless there is good reason for the animal to engage.

Poljen grins as the Ball of Fire detonates amidst the enemy. He feels the Battle Madness stirring in him, and for a moment considers resisting, until their foe is closer to hand. But then seeing several of them grow to be taller than himself, he gives in. His smile once more turns feral, his eyes glisten with anticipation and his breathing grows deeper. Seeing the dark dwarves getting up, he realizes he has a chance to shoot and quickly pulls out the fine bow Lia had gifted him. He lets fly a pair of arrows, then drops it and readies his sword and shield.
NOTE: In the case of D&D, Wizards holds the copyright for its material. The versions most Players in our Community tend to use Dungeons & Dragons 2-3.5 although others may use higher versions.
Search via our Community for:
Dungeons and Dragons Tendriculos - D&D 3.5 PBP RPG Coded by: BGID® | ALL RIGHTS RESERVED Copyright © 2004-2017
Disclaimer | Privacy | Report Errors / Contact | Credits
RPG Info
Latest Game Topics
Highlights
Updated every: 59 minutes