Dungeons and Dragons Hippogriff 3.5 PBP RPG
Fri, 21st July, 2017 - 10:48 am GMT
| | |
| --- | --- |
| | Hippogriff |
| | |
| | 3d10+9 (25 hp) |
| | +2 |
| | 50 ft. (10 squares), fly 100 ft. (average) |
| | 15 (-1 size, +2 Dex, +4 natural), touch 11, flat-footed 13 |
| | +3/+11 |
| | Claw +6 melee (1d4+4) |
| | 2 claws +6 melee (1d4+4) and bite +1 melee (1d8+2) |
| | 10 ft./5 ft. |
| | - |
| | Darkvision 60 ft., low-light vision, scent |
| | Fort +6, Ref +5, Will +2 |
| | Str 18, Dex 15, Con 16, Int 2, Wis 13, Cha 8 |
| | |
| | |
| | Temperate hills |
| | Solitary, pair, or flight (7-12) |
| | 2 |
| | None |
| | Always neutral |
| | |
| | - |
Hippogriffs are aggressive flying creatures that combine features of horses and giant eagles. Voracious omnivores, hippogriffs will hunt humanoids as readily as any other meal. A typical hippogriff is 9 feet long, has a wingspan of 20 feet, and weighs 1,000 pounds.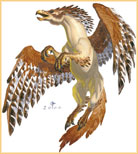 Latest RPG Post
Shuth gets on the horn and tells everyone what he has found. He also adds, "If we can keep it on the defense we can over come it and maybe kill it or weaken it enough to get it off of us. The fact that it is growing is not good. We need a way to also block our brain waves getting to it. If it does not sense our brain waves maybe it will go elsewhere."

Shuth continues to test ways of possibly blocking signals to it or other wise causing it to stop growing or even kill it.
NOTE: In the case of D&D, Wizards holds the copyright for its material. The versions most Players in our Community tend to use Dungeons & Dragons 2-3.5 although others may use higher versions.
Search via our Community for:
Dungeons and Dragons Hippogriff - D&D 3.5 PBP RPG Coded by: BGID® | ALL RIGHTS RESERVED Copyright © 2004-2017
Disclaimer | Privacy | Report Errors / Contact | Credits
Current Leaders

KNtoran

Noukril
(14)

Hunter

Hunter
(14)
Chynacat

Melodie
(11)
Krusten

Krusten
(10)
Thomaslee

Jonathon
(9)
Wizard

Merlin
(9)
Aspiring Leaders

Goldendawn / Aaroni (9)
Thaosx / Dazrin (8)
Txtrpg / Zork (2)
Usabookworm / Bonifacius (5)
Anronrosby / Kronar (5)
Kyrroeth / Emma (4)
Ready To Rule?
Are you here yet or still hiding? Come out of your cave and become a Ruler... a Ruler of Kings.
RPG Highlights