Dungeons and Dragons Gnoll 3.5 PBP RPG
Mon, 24th July, 2017 - 8:41 pm GMT
| | |
| --- | --- |
| | Gnoll |
| | |
| | 2d8+2 (11 hp) |
| | +0 |
| | 30 ft. (6 squares) |
| | 15 (+1 natural, +2 leather armor, +2 heavy steel shield), touch 10, flat-footed 15 |
| | +1/+3 |
| | Battleaxe +3 melee (1d8+2/x3) or shortbow +1 ranged (1d6/x3) |
| | Battleaxe +3 melee (1d8+2/x3) or shortbow +1 ranged (1d6/x3) |
| | 5 ft./5 ft. |
| | - |
| | Darkvision 60 ft. |
| | Fort +4, Ref +0, Will +0 |
| | Str 15, Dex 10, Con 13, Int 8, Wis 11, Cha 8 |
| | |
| | |
| | Warm plains |
| | Solitary, pair, hunting party (2-5 and 1-2 hyenas), band (10-100 plus 50% noncombatants plus 1 3rd-level sergeant per 20 adults and 1 leader of 4th-6th level and 5-8 hyenas), or tribe (20-200 plus 1 3rd-level sergeant per 20 adults, 1 or 2 lieutenants of 4th or 5th level, 1 leader of 6th-8th level, and 7-12 hyenas; underground lairs also have 1-3 trolls) |
| | 1 |
| | Standard |
| | Usually chaotic evil |
| | By character class |
| | +1 |
Gnolls are hyena-headed, evil humanoids that wander in loose tribes. Most gnolls have dirty yellow or reddish-brown fur. A gnoll is a nocturnal carnivore, preferring intelligent creatures for food because they scream more. A gnoll is about 7-1/2 feet tall and weighs 300 pounds. Gnolls speak Gnoll.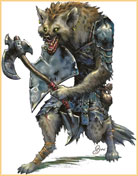 Latest RPG Post
"Lets open the left door to out left first, see where that may lead us," I offer, with some consideration looking to the others before asking, "Anyone here know how to unlock the door, without simply busting it open?" Never really worked with the sort of locks found in the cavern, so I had no idea.
NOTE: In the case of D&D, Wizards holds the copyright for its material. The versions most Players in our Community tend to use Dungeons & Dragons 2-3.5 although others may use higher versions.
Search via our Community for:
Dungeons and Dragons Gnoll - D&D 3.5 PBP RPG Coded by: BGID® | ALL RIGHTS RESERVED Copyright © 2004-2017
Disclaimer | Privacy | Report Errors / Contact | Credits
RPG Info
Latest Game Topics
Highlights
Updated every: 59 minutes