Dungeons and Dragons Ettercap 3.5 PBP RPG
Fri, 21st July, 2017 - 2:27 am GMT
| | |
| --- | --- |
| | Ettercap |
| | |
| | 5d8+5 (27 hp) |
| | +3 |
| | 30 ft. (6 squares), climb 30 ft. |
| | 14 (+3 Dex, +1 natural), touch 13, flat-footed 11 |
| | +3/+5 |
| | Bite +5 melee (1d8+2 plus poison) |
| | Bite +5 melee (1d8+2 plus poison) and 2 claws +3 melee (1d3+1) |
| | 5 ft./5 ft. |
| | Poison, web |
| | |
| | Fort +4, Ref +4, Will +6 |
| | Str 14, Dex 17, Con 13, Int 6, Wis 15, Cha 8 |
| | Climb +10, Craft (trapmaking) +4, Hide +9, Listen +4, Spot +8 |
| | |
| | Warm forests |
| | Solitary, pair, or troupe (1-2 plus 2-4 Medium monstrous spiders) |
| | 3 |
| | Standard |
| | Usually neutral evil |
| | |
| | +4 |
An ettercap is about 6 feet tall and weighs about 200 pounds.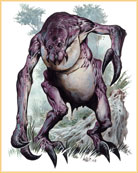 Ettercaps speak Common.
Latest RPG Post
"Fay, you don't want to be out there when they… Yep, when they do that"

Several of the grey dwarves following the scouts are growing, towering over the others and wielding axes suited to felling giants.

"You are right about one thing though, back up the front line a little, so more of us can engage them as they come in."

Before he moves back, Silas points his weapon, and a ball of fire arcs from it to land in the center of the charging pack of duergar. There is a hollow thump, and then the room is lit up as a massive fireball envelops most of the enemy, flinging them about. Several do not get back up, but most do, and the charge resumes.

Out of Character: Those of you with attack options with a range of more than 60 feet or so, you'll be able to get one shot off in the round before they can close in. Lia's first shot with the Lightning bolt wand will have to wait for round 2, but she could cast/shoot something else right now. There's now space for anyone who wishes to be on the front line.
NOTE: In the case of D&D, Wizards holds the copyright for its material. The versions most Players in our Community tend to use Dungeons & Dragons 2-3.5 although others may use higher versions.
Search via our Community for:
Dungeons and Dragons Ettercap - D&D 3.5 PBP RPG Coded by: BGID® | ALL RIGHTS RESERVED Copyright © 2004-2017
Disclaimer | Privacy | Report Errors / Contact | Credits
Current Leaders

KNtoran

Noukril
(14)

Hunter

Hunter
(14)
Chynacat

Melodie
(11)
Krusten

Krusten
(10)
Thomaslee

Jonathon
(9)
Wizard

Merlin
(9)
Aspiring Leaders

Goldendawn / Aaroni (9)
Thaosx / Dazrin (8)
Txtrpg / Zork (2)
Usabookworm / Bonifacius (5)
Anronrosby / Kronar (5)
Kyrroeth / Emma (4)
Ready To Rule?
Are you here yet or still hiding? Come out of your cave and become a Ruler... a Ruler of Kings.
RPG Highlights