Dungeons and Dragons Drider 3.5 PBP RPG
Fri, 21st July, 2017 - 10:47 am GMT
| | |
| --- | --- |
| | Drider |
| | |
| | 6d8+18 (45 hp) |
| | +2 |
| | 30 ft. (6 squares), climb 15 ft. |
| | 17 (-1 size, +2 Dex, +6 natural), touch 11, flat-footed 15 |
| | +4/+10 |
| | Dagger +5 melee (1d6+2/19-20) or bite +6 melee (1d4+1 plus poison) or shortbow +5 ranged (1d8/x3) |
| | 2 daggers +3 melee (1d6+2/19-20, 1d6+1/19-20) and bite +1 melee (1d4+1 plus poison); or shortbow +5 ranged (1d8/x3) |
| | 10 ft./5 ft. |
| | Spells, spell-like abilities, poison |
| | Darkvision 60 ft., spell resistance 17 |
| | Fort +5, Ref +4, Will +8 |
| | Str 15, Dex 15, Con 16, Int 15, Wis 16, Cha 16 |
| | Climb +14, Concentration +9, Hide +10, Listen +9, Move Silently +12, Spot +9 |
| | |
| | Underground |
| | Solitary, pair, or troupe (1-2 plus 7-12 Medium monstrous spiders) |
| | 7 |
| | Double standard |
| | Always chaotic evil |
| | By character class |
| | +4 |
Driders speak Elven, Common, and Undercommon.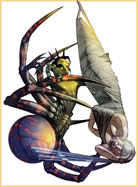 Driders seldom pass up an opportunity to attack other creatures, especially from ambush. They usually begin with a spell assault and often levitate out of the enemy's reach.
Latest RPG Post
Geoffroy will prepare for battle, readying a fireball as he calls upon Lathander to guide his attack and brings to the cleric's hand the sacred fire of his light as he says to his companions and gets into a position towards the front as he points his finger at the dwarves, "I will try hitting them with a fireball, stay clear of the spell my friends."
NOTE: In the case of D&D, Wizards holds the copyright for its material. The versions most Players in our Community tend to use Dungeons & Dragons 2-3.5 although others may use higher versions.
Search via our Community for:
Dungeons and Dragons Drider - D&D 3.5 PBP RPG Coded by: BGID® | ALL RIGHTS RESERVED Copyright © 2004-2017
Disclaimer | Privacy | Report Errors / Contact | Credits
RPG Info
Latest Game Topics
Highlights
Updated every: 59 minutes