Dungeons and Dragons Centaur 3.5 PBP RPG
Fri, 21st July, 2017 - 10:46 am GMT
| | |
| --- | --- |
| | Centaur |
| | |
| | 4d8+8 (26 hp) |
| | +2 |
| | 50 ft. (10 squares) |
| | 14 (-1 size, +2 Dex, +3 natural), touch 11, flat-footed 12 |
| | +4/+12 |
| | Longsword +7 melee (2d6+6/19-20) or composite longbow (+4 Str bonus) +5 ranged (2d6+4/x3) |
| | Longsword +7 melee (2d6+6/19-20) and 2 hooves +3 melee (1d6+2); or composite longbow (+4 Str bonus) +5 ranged (2d6+4/x3) |
| | 10 ft./5 ft. |
| | - |
| | Darkvision 60 ft. |
| | Fort +3, Ref +6, Will +5 |
| | Str 18, Dex 14, Con 15, Int 8, Wis 13, Cha 11 |
| | Listen +3, Move Silently +4, Spot +3, Survival +2 |
| | Dodge, Weapon Focus (hoof ) |
| | Temperate forests |
| | Solitary, company (5-8), troop (8-18 plus 1 leader of 2nd-5th level), or tribe (20-150 plus 30% noncombatants plus 10 3rd-level sergeants, 5 5th-level lieutenants, and 1 leader of 5th-9th level) |
| | 3 |
| | Standard |
| | Usually neutral good |
| | By character class |
| | +2 |
A centaur is as big as a heavy horse, but much taller and slightly heavier. A centaur is about 7 feet tall and weighs about 2,100 pounds.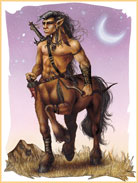 Centaurs speak Sylvan and Elven.
Latest RPG Post
Geoffroy will prepare for battle, readying a fireball as he calls upon Lathander to guide his attack and brings to the cleric's hand the sacred fire of his light as he says to his companions and gets into a position towards the front as he points his finger at the dwarves, "I will try hitting them with a fireball, stay clear of the spell my friends."
NOTE: In the case of D&D, Wizards holds the copyright for its material. The versions most Players in our Community tend to use Dungeons & Dragons 2-3.5 although others may use higher versions.
Search via our Community for:
Dungeons and Dragons Centaur - D&D 3.5 PBP RPG Coded by: BGID® | ALL RIGHTS RESERVED Copyright © 2004-2017
Disclaimer | Privacy | Report Errors / Contact | Credits
Current Leaders

KNtoran

Noukril
(14)

Hunter

Hunter
(14)
Chynacat

Melodie
(11)
Krusten

Krusten
(10)
Thomaslee

Jonathon
(9)
Wizard

Merlin
(9)
Aspiring Leaders

Goldendawn / Aaroni (9)
Thaosx / Dazrin (8)
Txtrpg / Zork (2)
Usabookworm / Bonifacius (5)
Anronrosby / Kronar (5)
Kyrroeth / Emma (4)
Ready To Rule?
Are you here yet or still hiding? Come out of your cave and become a Ruler... a Ruler of Kings.
RPG Highlights