Azer

2d8+2 (11 hp)

+1

20 ft. in scale mail (4 squares); base speed 30 ft.

23 (+1 Dex, +6 natural, +4 scale mail, +2 heavy shield), touch 11, flat-footed 22

+2/+3

Warhammer +3 melee (1d8+1/x3 plus 1 fire) or shortspear +3 ranged (1d6+1 plus 1 fire)

Warhammer +3 melee (1d8+1/x3 plus 1 fire) or shortspear +3 ranged (1d6+1 plus 1 fire)

5 ft./5 ft.

Heat

Darkvision 60 ft., immunity to fire, spell resistance 13, vulnerability to cold

Fort +4, Ref +4, Will +4

Str 13, Dex 13, Con 13, Int 12, Wis 12, Cha 9

Appraise +6, Climb +0, Craft (any two) +6, Hide +0, Jump -6, Listen +6, Search +6, Spot +6

Solitary, pair, team (3-4), squad (11-20 plus 2 3rd-level sergeants and 1 leader of 3rd-6th level), or clan (30-100 plus 50% noncombatants plus 1 3rd-level sergeant per 20 adults, 5 5th-level lieutenants, and 3 7th-level captains)

2

Standard coins; double goods (nonflammables only); standard items (nonflammables only)

Always lawful neutral

By character class

+4
Azers are dwarflike beings native to the Elemental Plane of Fire. They wear kilts of brass, bronze, or copper, and speak Ignan and Common.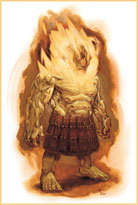 Latest RPG Post
"As you wish, be prepared, and stand back a bit, the heat from this trick is considerable." Silas causes his greatsword to disappear again, and shifts his left hand into that of a golden dragon. He utters a few words and the clawtips start glowing. Scraping them along the face of the stone wall, the rock starts melting. Flowing away from his paw, the hot molten rock resolidifies along the face of the tunnel, and out of your way, cooling much more rapidly than would be natural. Within a few moments, the heat near the wall is bearable again.

A few wisps of smoke rising from his clothes, Silas returns his hand to normal and steps through the hole he made carefully. Around a dozen dead dwarves lie about, including the one Fay had trapped in red hot armor, and you can hear their companions retreating down the tunnel ahead.

In the brief time he had to search, Cratol found a purse with about 51 gold worth of assorted coins, an intriguing small mithral casket with a lock, and a bottle of what looks to be high proof alcohol of some kind. If he wishes to bother with such things, there are also a good number of duergar crafted weapons that can be snatched up freely.

Out of Character: Note, this would be the first real evidence anyone but Velon has seen that Silas isn't just some sorcerer putting you on about his nature, though that isn't entirely conclusive either.